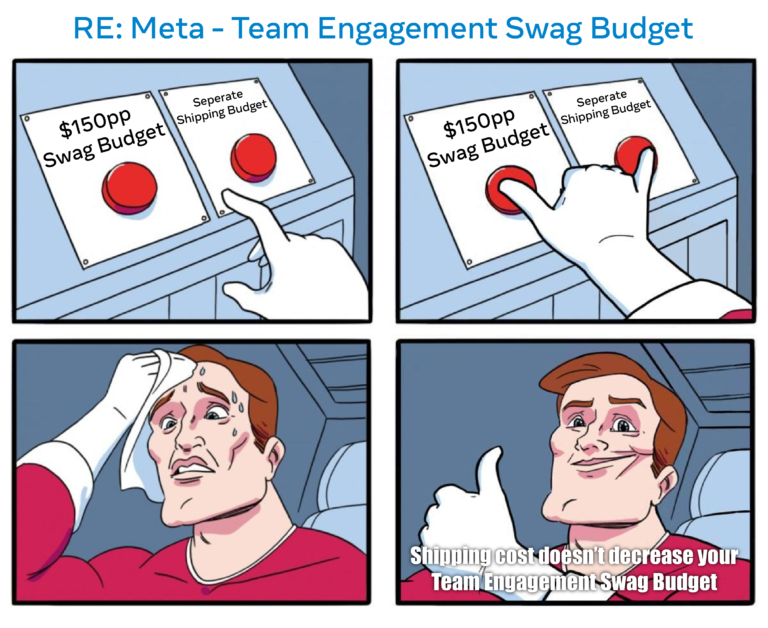 Good news on Team Engagement Swag! Shipping costs hit a separate budget, so it doesn't cut into the amount available to spend on swag!
Meta Team Engagement Swag Reminders
Artwork Decoration – swag must have either the Meta logo or your team name/logo on the item(s). We have graphic designers who can bring your ideas to life
Shipping & Fulfillment Costs –  Covered by a separate budget, so it does not cut into the amount available to spend on swag.
Orders over >$10K will need a Purchase Order 
Orders less than <$10k can be paid via a credit card
Links with detailed info on budgets & how to enter team swag expenses in Concur: Swag and Team Engagement Spend Guidelines and People Portal (available internally for Meta employees only)
Three Options for Service
Choose the best service level for your needs, as FAST as you want:
Concierge Service Request

 – fill out our Concierge Request Form and curated ideas will be sent to you in 2-3 business days

Buy Gift Packages or Swag Item(s)

 – from our Meta teams tailored online store (items added weekly): Meta Store

FASTEST: Buy Now, Choose Later

 – "Swag Certificates" in $50/$75/$100/$150/Custom amounts enable managers to delegate & stay within desired budget. A credit to be applied to your soon-to-be placed order. Allows additional time for the team to decide on the swag to order.
Once you've made your selection, we will:
Create a Shipping Address Form
We create a specific, customized google form for your team to securely provide their mailing address & selection(s) as applicable: style, selection, color & size, etc

Submit a Sales Order


Sent to you for final item and artwork approval
Begin Production
Typically starts after all recipient info has been received by our team

Invoice Shipping & Fulfillment Costs


Can only be estimated once all shipping addresses are known. All costs will be invoiced separately once swag has shipped.
Need to meet your swag budget deadline?
Check out our Swag Certificates you can buy quickly and easily in the exact amount you need!
Purchase the amount of certificates that matches your budget amount today and our team will follow up with swag item(s) and gift package ideas to fit your specific needs in 1-2 business days.
If you have questions about the Swag Certificate, please email us at
shop@outbranding.com