Good news – Shipping costs do NOT come out of your Team Engagement Swag Budget!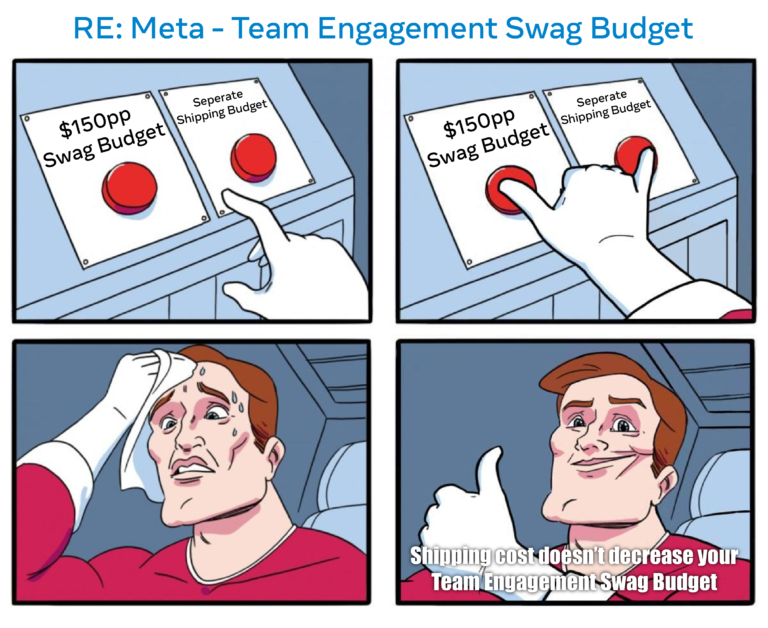 In a hurry? Buy Swag Certificates online today for the exact amount you need & pick your swag later!
Meta Team Engagement Swag Reminders
Artwork Decoration – all Team Engagement Swag must have either the Meta logo or your team name/logo somewhere on the items. Great news – we have in-house graphic designers who can bring your ideas to life!
Shipping & Fulfillment Costs –  These are covered by a separate budget, so they do not cut into the amount available to spend on swag.
Orders over >$10K will need a Purchase Order. You can open a PO by going to "Guided Buying > Open Contract for IP." This is required for logo use.
Orders less than <$10k can be paid via a credit card
Check out these links with detailed info on budgets & how to enter team swag expenses in Concur: Swag and Team Engagement Spend Guidelines and People Portal (available internally for Meta employees only)
Three Options for Service
Choose the service level that best suits your spending timeline:
Concierge Service Request – fill out our Concierge Request Form with as many details as you can provide & we'll send you curated ideas in 2-3 business days.


(This is the best option if you have time on your side & want creative, curated swag.) 

Shop Gift Packages or Swag Items – from our Meta Teams tailored online store – new items added weekly! Visit the Meta Store.


(Want to choose from pre-set options that fall within guidelines? This is the choice for you!)

FASTEST: Buy Now, Choose Later – "Swag Certificates" in $50/$75/$100/$150 or custom amounts enable managers to delegate & stay within desired budget. A credit will be applied to your soon-to-be-placed order.


(This provides additional time for your team to decide on swag items & designs without losing your budget allotment for the year.)
Once you've selected your swag choices:
Secure Response Form for Your Team 
We create a specific, customized form for your team to securely provide their mailing addresses & swag selections as applicable (color, size, style, etc).
Sales Order Approval & Invoice Payment
You carefully review the Sales Order, team responses, and give final approval of the items selected and artwork. If paying with a credit card, you will approve the Sales order and pay the invoice at the same time.
Production Begins
Production can only begin once we have received all size & shipping information from your team, and we have received payment of invoice with a CC or we have received the PO if you order is over $10k. If using a PO, we will upload the invoice directly to your system and expenses will be allocated to the proper budgets accordingly.
In a hurry to meet your swag budget deadline?
Check out our Swag Certificates – you can buy these quickly & easily in the exact amount you need!
How does this process work?
Purchase the certificates that match your budget amount and our team will follow up in 1-2 business days with swag items & gift package ideas to fit your specific needs.
If you have questions about Swag Certificates, please email us at shop@outbranding.com